We Make Car Keys That Work in Decatur, AL
When you need to go, you need to go. A lost or misplaced car key should never get in your way. That's why you should always have at least one spare car key in a safe place. At Ambulock, we specialize in professional car key replacement and duplication services designed to ensure you have access to your vehicle. Learn why we've become the most trusted locksmith in the Decatur, AL area.
Your Car Key Replacement Is An Exact Science
You might be accustomed to having your car keys replaced at a local hardware shop or big box store, but professional traditional and transponder key cutting services will guarantee your keys will operate just like the original. Our technicians can cut virtually any type of key, including:
Honda car keys
Toyota car keys
Nissan car keys
Mazda car keys
Remote head keys
GM car keys
Audi car keys
VW car keys
Our key duplication services are designed to meet the needs of both foreign and domestic vehicle owners. We're even skilled in replacement keys for big rigs, trucks, and corporate fleets.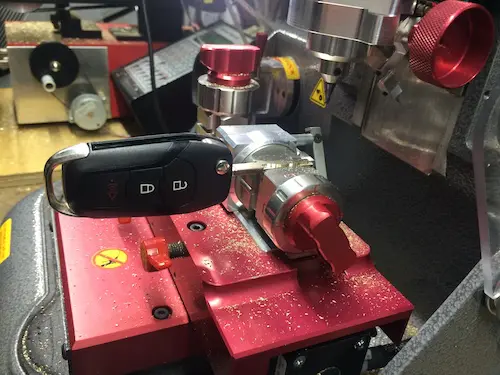 We can cut your car keys on site with our precise high-security key cutting machines.
Replacement Smart Keys & Intelligent Keys
Unlike traditional keys cut from a blank, intelligent keys and smart keys require special programming as they're designed to work with an onboard computerized security system. Replacing these keys can be time-consuming and expensive if your only option is to contact the dealership in hopes that your specific key can be created quickly.
At Ambulock, we program and replace smart keys for nearly any vehicle. Our technicians are skilled in transponder key cutting. Simply give us your vehicle's make, model and year and we'll take it from there. It's really that simple.
What is My Car Key Replacement Cost?
There isn't an industry standard for car key replacement costs, but we can guarantee you that we offer competitive rates throughout Morgan County and surrounding areas. We constantly strive to remain competitive while delivering a perfect product. The following factors play a role in determining cost:
Services on-location or on-site at our shop
The complexity of the key: traditional vs. smart key
The urgency of replacement (it's always better to plan ahead)
Car key replacement is not a service you should trust to just anyone; choose only the best to provide you with a precise duplicate of your vehicle's factory key.
With more than 8 years in business, we know locksmithing and key cutting like we know the streets of Decatur, AL. Our hometown is your hometown, which is why we bring you the most qualified locksmiths and fast mobile service in an emergency. Our family-owned and operated shop is available if you'd like to stop by and meet us. We even assist with key origination for American and Japanese cars. You can feel secure that the services we provide are of top-notch quality and insured.
Whether you're in need of a precise car key copy or are facing a time crunch due to lost car keys, we've got you covered. Our fast, affordable mobile locksmith service will deliver skilled technicians to your location to get you back into your vehicle and driving once again. Contact us today!