Lockout Service For Cars, Homes, and Businesses
The Lockout Service Pros in Decatur, AL
When you need a reliable locksmith that will conveniently come to you when you're experiencing a problem, contact the professionals at Ambulock. We have the knowledge and tools necessary to take care of any locksmith issue you may have, including Decatur lockout service.
One of the most common situations we encounter is home lockouts. The homeowner arrives home and says to themselves, "I'm locked out of my house." If you find yourself in this situation, you may feel panic and a desperate need to gain entry to your home. This might lead you to take drastic measures such as busting a window or to try and pop a lock. But, before you resort to methods that will damage your home and lead to expensive repairs, contact the experienced locksmiths at Ambulock. We'll come to you with our convenient mobile service and use tools to get you back into your home without causing expensive damages.
If you arrive at work and realize you can't get in because you either forgot your keys or they are lost, you might decide that the day is done and you're going to lose a day's work. But, before you start on your way home, contact Ambulock. We can come to you and provide you with our office unlock services so you can get on with your day. If you're in need of new keys, we can even make keys for you right there on the spot.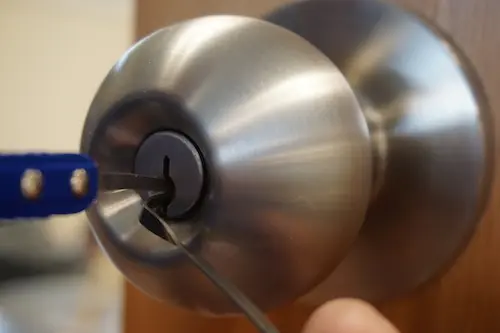 Locked out of your home or office? We can pick the lock and get you in, without any damage to the lock or the door.
Another popular service we offer is our auto lockout service. It is so easy to lock your keys in your car. Not only is this a huge inconvenience, but it can also leave you in a precarious situation, especially if you're in a strange area. Many people have tried to pick a lock or break a window to get into their car, but this is not the best option as the damage will need to be repaired and this can be costly. Your best option is to call an experienced locksmith. The locksmiths at Ambulock have special tools to manipulate the lock on your car which will allow us to gain entry without causing damage to the lock. Our reliable locksmiths will come to you no matter the day or time and get you back in your car so you can be on your way.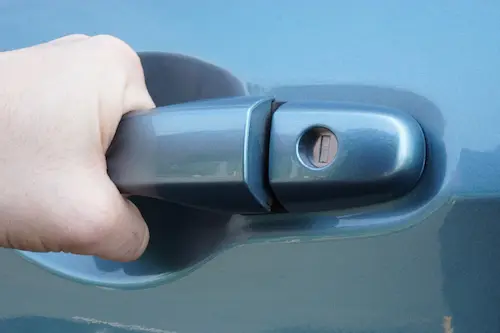 Are your car keys lost or just locked in your car? Allow us to unlock your car door quickly and affordably.
Dependable Locksmith Service You Can Trust
When it comes to locksmith services, all locksmiths are not equal. Ambulock offers dependable and superior service you can trust. All our locksmiths are licensed and insured which means you can expect quality service at a fair and honest price. When you call us, we'll get to you fast and take care of your problem. With over 8 years of experience, we're a family-owned and operated company that offers a convenient mobile service to the residents of Decatur, AL, and surrounding areas. The satisfaction of our customers is our number one priority. We take pride in honing our skills to provide the best possible locksmith services for our customers. The next time you have a locksmith issue, look no further than Ambulock. We have the experience and tools to effectively solve any locksmith problem you may have.