The Motorcycle Locksmith That Can Get You Back On The Road
If you're like most bike owners, your motorcycle is precious to you. So, when something goes wrong you need experienced professionals on your side. Contact Ambulock for all your motorcycle locksmith needs.
Motorcycle Key Replacement Decatur, AL
Losing your motorcycle keys may leave you wondering what to do next. You could go to the dealer and pay a hefty price for new keys as the dealer will make money off of any service that you request. Or, you could choose a faster and more cost-friendly approach and contact Ambulock. The professionals at Ambulock will come to you with our convenient mobile service and make you a new key on the spot and charge a fraction of what a dealer would charge. We have the equipment to cut a new key so that it works seamlessly with your bike. We can replace any type of key, including chipped motorcycle keys, gas cap lock keys, and even tubular Harley Davidson keys.
In the unfortunate event that you get a key stuck in the ignition or a lock, don't try to remove it yourself. You could wind up damaging internal components within the ignition or lock which will lead to expensive repairs. Instead, contact Ambulock. We have the necessary tools to easily extract any key that is stuck or broken off without causing damage. We'll get the job done so you can be on your way.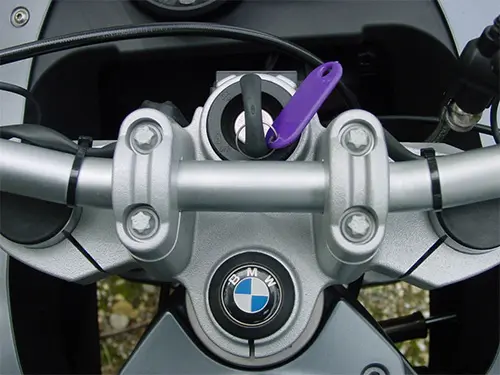 Lost your motorcycle key? Ambulock can help!
Repair Motorcycle Ignition
When you go to start your motorcycle and you notice the key doesn't seem to fit into the ignition or the ignition is hard to turn over, you might need ignition repair. A repair such as this takes the patience and experience that you'll find at Ambulock. Our knowledgeable locksmiths will disassemble the ignition and remove the damaged components. We'll then assemble the ignition with new parts so that it will work like new. We'll come to you with our convenient mobile service and take care of you no matter where you are.
Rekey Motorcycle Locks and Ignitions
There are situations where you may need to rekey your motorcycle locks and ignition. If you want new keys to work with existing locks and ignition, Ambulock can accomplish this for you. Rekeying is necessary if you have lost your keys or you think someone has made an unauthorized copy of your keys. To rekey the lock, we will remove the cylinder from the lock and then remove the pins. The pins will then be replaced to work with the new key. By rekeying your motorcycle, you will maintain the security of your bike and can have peace of mind in knowing that your beloved bike is safe.
Decatur Locksmith Near Me
If you're looking for a reliable locksmith in Decatur, AL, then look no further than Ambulock. We promise fast response times, skilled technicians and affordable rates. In addition to Decatur, AL, we also service surrounding cities and towns. We've been in business for over 8 years and take pride in the fact that we continually hone our skills to provide superior locksmith services for our customers. Our mobile locksmith company is family-owned and operated which means you'll get friendly and convenient service whenever you need us. Call Ambulock for all your locksmith needs.