Your Local Madison Locksmiths
If you live in the Madison area, the expert locksmiths of Ambulock are close by to help you out. Our excellent locksmiths in Madison, AL, offer a range of services, from residential locksmithing to commercial locksmith services and emergency locksmith visits to help with lockout service and other automotive needs. We are available on short notice and can solve almost every lock, car key, or new key fob issue with a single visit. Have a look at the services we offer in Madison, Alabama.
Vehicle Locksmith Services
The mobile locksmiths at Ambulock can come to where you are and help you out of a jam on short notice. We answer calls for help with emergency lockout service, non-destructive unlocking of car doors, car key replacement, and motorcycle locksmith services, including installation and repair of gas caps. If you're having trouble getting into or starting your car, give us a call for key fob reprogramming, transponder key cutting, and even jump starts and flat tire replacement to get you back on the road right away.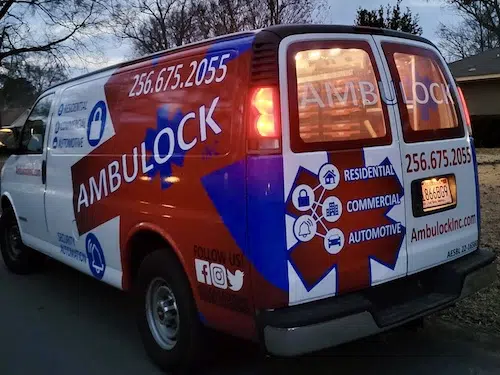 Call Ambulock for locksmith service in Madison, AL, and surrounding areas.
Residential Locksmith in Madison, AL
We can visit you at your home just about anywhere in the greater Huntsville area. Call us to unlock your home's exterior doors, replace lost keys or provide expert rekeying service for any lock in your house. We install only the best high-quality hardware from brands such as Schlage, Kwikset, and LSDA. All our work is guaranteed, and our mobile residential locksmiths are licensed, bonded, and insured. You can trust the job we do for our residential customers in northern Alabama, and we approach every call with an attitude of putting the customer first.
Commercial Locksmith in Madison, AL
We can also help you design and install advanced access control; systems for your office, workshop, or storage facility. We install sophisticated electronic door and gate locks for our commercial clients, and we can tailor entry and exit control systems to your exact needs. We build master key systems, lock rekeying, lock changing, offer key duplication for multiple employees and reprogram electronic access systems as needed, such as when you move into a new facility or need to restructure access for your staff.
Experienced Locksmiths and Expert Service
Our team has been helping customers in the Huntsville area for several years with all sorts of locksmithing needs. For several years, we have approached every job we do with honest and upfront affordable pricing, the integrity of true professionals, and a service-first mentality that has served our customers well since the beginning. Whether you need a residential locksmith to visit you at your home, a commercial locksmith to help you plan access control for your business, or you're just locked out of your car and need help fast, call the mobile locksmiths at Ambulock and get the help you need right away.
More About Ambulock, Inc. Your Decatur, Madison, & Huntsville Locksmith
We are car key experts and we work on almost all car brands. We service Decatur to Huntsville, AL including Morgan County and Madison County, and the surrounding areas. Call us for new car keys, car key replacements, spare keys, lockout service, key fobs, proximity fobs, gas-ups, battery jumps, and more.