Your Local Huntsville Locksmiths
People who need locksmith service in the Huntsville, Alabama area can call on the expert mobile locksmiths at Ambulock for almost any kind of job. We are a team of expert locksmiths with years of experience in emergency unlock service, lock rekeying, lock replacement, and new lock installations. We can program automotive key fobs, install and maintain master key systems and help you out with emergency lockout service for your car, office, or home.
Automotive Locksmith Service and Emergency Locksmithing
There's no feeling quite as bad as realizing you're locked out of your car on a hot Alabama afternoon. You need a car locksmith who can help you out fast. We have an emergency lockout service that can non-destructively get you back into your car and back on the road. For good measure, we also offer jump starts and flat tire replacement for folks who need it. We specialize in key fob reprogramming, car key replacement, and making car key copies if you need them. Anytime you have a locked car, a running motor, and an armload of groceries to get home, give us a call and we can be there right away.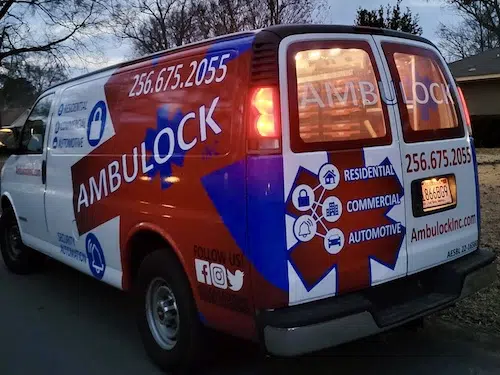 Call Ambulock for locksmith service in Huntsville, AL, and surrounding areas.
We are also motorcycle locksmiths who can help you with locked ignitions and jammed gas caps. We are key makers who offer affordable key duplication services, as well as transponder key cutting and car key reprogramming. We service key fobs and other remote systems with upfront pricing so you know what to expect before we've even begun the work.
Residential and Commercial Locksmithing in Huntsville, AL
We are also expert residential locksmiths who have helped countless neighbors throughout the Huntsville region. We assist with residential home lockout service, existing lock rekeying service, and new lock installations. We use only the highest quality lock hardware on the market, with nationally respected brand names like Schlage, Kwikset, and LSDA. Our philosophy toward the services we perform revolves around truth, security and always doing the right thing, the right way, right away, and for all of our customers and clients.
Our commercial locksmithing customers have come to appreciate this approach to the services we render. We have the experience to help businesses design and implement some of the most advanced security and access control systems available anywhere. We can install new locks for factories, warehouses, and commercial office structures, rekey existing systems and install wholly new electronic access and exit control systems. Our team of licensed, bonded, and insured commercial locksmiths can help your business secure the parking lot with a remotely controlled gate, protect the building with advanced exterior door locks, and control movement inside the office with keycard systems and sophisticated master key systems.
Your Locksmith in Huntsville
Ambulock is the first place to go for all of your locksmith needs in the greater Huntsville area. We can solve almost every lock, car key, or new fob issue you might have, and we do it all with a customer-first approach you'll love. Give us a call today to find out how we can help you with nearly any lock or key issue you could have.
More About Ambulock, Inc. Your Decatur, Madison, & Huntsville Locksmith
We are car key experts and we work on almost all car brands. We service Decatur to Huntsville, AL including Morgan County and Madison County, and the surrounding areas. Call us for new car keys, car key replacements, spare keys, lockout service, key fobs, proximity fobs, gas-ups, battery jumps, and more.