Your Local Automotive Locksmith in Decatur
Ambulock is the first place to call for outstanding locksmithing in Athens, AL. If you live anywhere between the Tennessee border and Wheeler Lake, throughout the greater Huntsville area, we are on hand to help you with lockout service, new lock installations, and lock rekeying service on short notice. Our experienced locksmiths are licensed, bonded, and insured, and we bring years of experience to every job that we do for you. Whether you need a residential locksmith, commercial locksmith, or automotive locksmith for emergencies, we are in the Athens area to help you out. This is especially true for car unlocking, car key replacement, and key fob programming.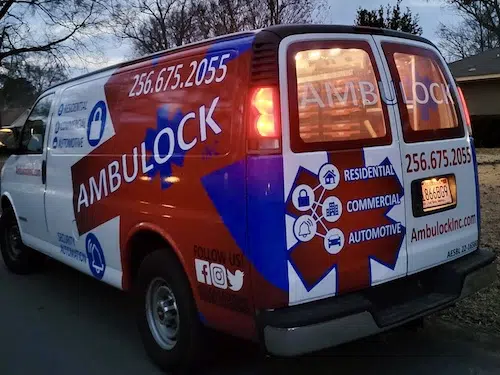 Call Ambulock for locksmith service in Athens, AL, and surrounding areas.
Emergency Locksmith in Athens, AL
If you've ever been locked out of your home, your office, or your car, you know how frustrating it can be. Give us a call for affordable emergency locksmith service in Athens, Huntsville, and the surrounding areas of northern Alabama. We have a team of dedicated and highly skilled mobile locksmiths who can get out to where you are quick, give you a free estimate with honest, upfront pricing, and get your doors unlocked right away. We offer car unlock service, door repair, and even jump-start and flat tire replacement, in case that's what you need. We are available as needed and on an emergency basis, so we can get out to where you need us quickly.
Residential Locksmithing Services
We can also help you get into your house if you're locked out. Our residential locksmiths have the training and the experience to non-destructively unlock your home's exterior doors, and we can follow it up with affordable key duplication and rekeying service to make sure it doesn't happen again. If you suspect your keys may be in the wrong hands, we can also install new locks for you with upfront pricing so there are no surprises on the bill. We use only the highest quality hardware, with nationally recognized brand names such as Schlage, Kwikset, and LSDA. We guarantee all of our customers are satisfied with the work that we've done, and you'll get years of service out of the hardware we install.
Commercial Locksmithing Services
If you own or operate a business anywhere in the Athens, AL, area, the commercial locksmith pros at Ambulock are in town and ready to help you out with nearly any job you need us for. We can help you design and implement access control, entry and exit systems, and advanced electronic door locks to keep your place of business secure. We can install new locks for your facility's exterior and interior doors, gates, and exit doors. We build out master key systems and provide professional-quality new lock installations for all kinds of structures.
Your Locksmith in Athens, AL
Ambulock is your locksmith in Athens. We have years of experience doing what we do, and we bring honesty, integrity, and a service-first attitude to every job, no matter how big or small it happens to be. Give us a call today to speak with a professional mobile locksmith near you.
More About Ambulock, Inc. Your Decatur, Madison, & Huntsville Locksmith
We are car key experts and we work on almost all car brands. We service Decatur to Huntsville, AL including Morgan County and Madison County, and the surrounding areas. Call us for new car keys, car key replacements, spare keys, lockout service, key fobs, proximity fobs, gas-ups, battery jumps, and more.